French Country isn't just for rustic farmhouses or old chateaux in France. This charming interior decorating style, with it's use of rich colors and pretty prints, can be found in homes all over the globe.
Warm reds, golden yellows, rich blues and vivid greens are some of the characteristic colors used in this decorating style. Bursts of brighter colors are usually paired with softer pastel hues to give a sense of warmth and comfort.
There are some popular motifs in the French Country style, mostly of things that would be found in a rural, farmland setting, such as roosters, olives, sunflowers, and lavender. Toile prints are also frequently used.
Natural elements are also emphasized in the French Country interior, such as stucco, wood, warm-toned metals, and stone. This combines in a style that is elegant, yet cozy and inviting, and oh so indescribably French.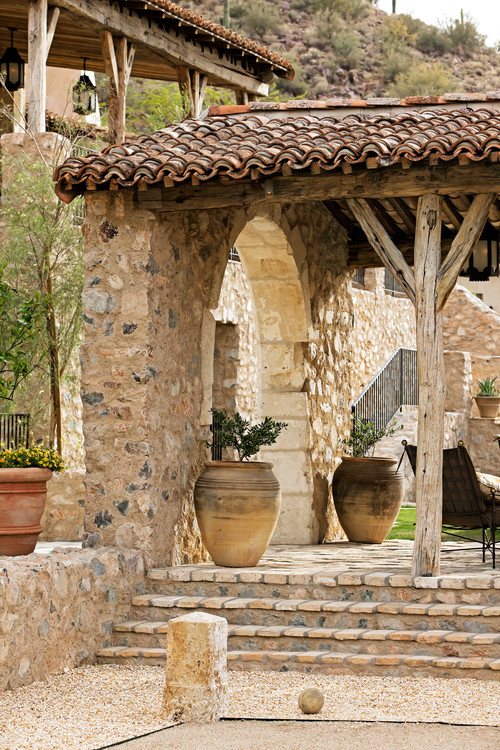 I usually don't show exteriors, but this stone covered porch with ceramic pots is perfect French Country style
(by Don Ziebell)


More photos after the page break
Kitchen with typical French Country touches - brightly colored, patterned fabrics and ceramic chickens
(by Sunscape Homes, Inc)
A bedroom done in rich golden yellow and cream, with a wood-beamed ceiling
(by Tucker & Marks)